In 1959, Betty Crocker published a book called Betty Crocker's Guide to Easy Entertaining – How to Have Guests — and Enjoy Them.  In the introduction, she discussed the need for such a book; after all, in the late 1950's the 5-day work-week had become a standard in virtually all industries, so men had more time for fun and friends.  Even though some women were actually holding outside jobs as well as running their households, big new refrigerators and a great variety of frozen, canned, and convenience foods made modern entertaining possible for almost everyone – even those who had no kitchen help!  It was time to discuss a new way to host an event, whether it was a weekend house party, afternoon tea or midnight supper.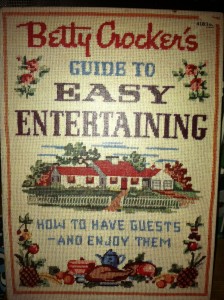 Some of the advice that Betty provided in 1959 has certainly gone out of style.  She spends many pages discussing the proper language to use when extending an invitation (always done by the lady of the house), and the correct way to introduce men to women, and vice versa. She provides guidance on how to gently coax guests from the dining room to the living room for after-dinner coffee or cocktails when the time was right, making sure there is plenty of cracked ice, cigarettes, matches, and ashtrays placed around the room (think Mad Men.). She provides recipes for broiled canned peach halves with dollops of green jelly in the center (!) as a delectable dessert for a party buffet, and an exotic new recipe from Mexico called guacamole to be served with crackers as an appetizer.
But much of Betty's advice still rings true 55 years later; for instance:
"The first rule of party planning is "Be ready."
"The secret of a successful party lies in the "giving" of it. The hostess who thinks of her party as a gift to her friends can't go wrong.
"Hospitality isn't a contest with the Joneses; it is sharing the best you have."
Betty provides the definition of the word hospitality as "Being disposed to entertain with generous kindness."  As a modern-day event planner, I believe that definition has withstood the test of time. When you break it down, planning events in today's world is really not all that different than it was 55 years ago. It's all about hospitality.
"Being disposed" – how to be ready in detail and in spirit
Behind every successful event is someone who takes the time to establish goals, assemble a team, create an action plan, and execute with precision. This allows everyone to relax on the big day and enjoy it without stress or unpleasant surprises. Being disposed means you have taken the time to sweat the small stuff in order to make sure your guests have a great time.
"Entertain" – how to entertain others while enjoying the event yourself.
At every event I've ever organized, the people in attendance have shown up wanting to have a good time, and therefore have been pretty forgiving if everything wasn't 100% perfect.  I'm sure that you've attended lots of events where everything wasn't necessarily going according to plan, and you didn't even realize it.  That's because the organizers were keeping their cool while implementing their "Plan B" and everyone was having a good time in spite of the snags. So strive for excellence, but don't freak out if something goes wrong – keep breathing and improvise!
"Generous" – how to be "generous" by providing event elements that exceed expectations.
It's all about figuring out why you are having the event, and then making sure all of your time and resources are spent meeting that goal.  Do you want to educate your attendees? Impress? Motivate? Entertain? Celebrate? Raise awareness? Raise money?  Identifying and documenting your goals and objectives, and then making sure everyone involved understands those goals, is the best way to insure that your time and resources are spent wisely and efficiently.
I once attended a huge technology conference in New Orleans. They had a reception on the opening day in a huge concourse where they encouraged attendees to network – introduce themselves, share business cards, and get to know each other better.  There were at least 2,000 people at the reception.  There were tables piled high with expensive food and there were open bars in every corner.  Other than a handful of small high-top cocktail tables (no chairs) there wasn't a single flat surface to set anything other than the floor. So here we all are – with our purse or briefcase in one hand, the conference bag we were just given at registration over our shoulder, a drink, a plate with knife and fork… a live band is blaring in the background…and we're expected to introduce ourselves, shake hands, network, exchange business cards, and get to know each other!  I'm sure this international corporation spent a fortune on that reception, but their poor planning made it impossible to achieve any of the goals they had set for the event, and I considered it a total waste of time, as did the hundreds of others who left the reception after only a few minutes.  Thinking through these kinds of logistics will help you achieve your goals and exceed your attendees' expectations instead of sabotaging yourself with poor planning.
"Kindness" – serving with kindness so guests feel treasured
When I plan an event, I always think about how I want my guests to feel when it's over. What do I want them to say in the car on the way home?  What would they say if they had to complete a survey at the conclusion?  What memories do I want them to carry with them long after the event is over? Planning a special event can be a lot of work, but the rewards can be great.  I will always treasure the look on my Dad's face when he walked in and saw all of his family and friends at his surprise 70th birthday party.  I'm so grateful that my daughter and her husband considered their wedding day to be perfect in every way.  I'm always glad to see survey results from customers who say that our conference is the best one they attend all year.
The next time you are planning an event for your home, your community, or your career, remember Betty Crocker and her rules of hospitality – be disposed to entertain with generous kindness.  Then you too will be able to create an affair to remember.