There were a lot of out-of-town and out-of-state guests attending Kelly and Brent's wedding.  We booked a block of hotel rooms in a great location, only minutes away from some beautiful vineyards, and a popular local tourist attraction – Mt. Airy, North Carolina, hometown of Andy Griffith and the inspiration for the town of Mayberry on The Andy Griffith Show.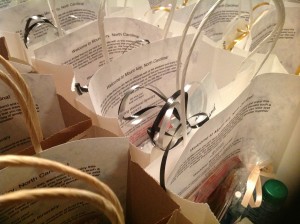 We wanted to make sure that the guests were aware of all the area had to offer so they could plan their free time. The bride and groom also wanted to make sure everyone knew how thankful they were that the guests chose to travel from all over the country to celebrate this wonderful occasion.  As a token of their appreciation, they created welcome bags for each room and asked the front desk to hand them out upon the guests' arrival.
The welcome bag contained the following:
A welcome letter from the bride and groom, as well as an itinerary for the weekend and specific directions to the wedding venue.
Information from the local travel and tourism center that provided maps and information about area attractions.
Treats and goodies to make them comfortable during their stay – bottled water, snacks such as peanuts, popcorn, raisins, and Krispy Kreme donuts (a local favorite), mints and tissues.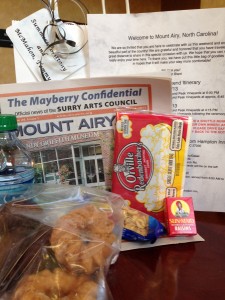 A welcome bag for hotel guests is a wonderful little surprise that will make your attendees feel extra-special. Have you ever put together welcome bags for your guests? What was the occasion, and what were the items that you were sure to include?