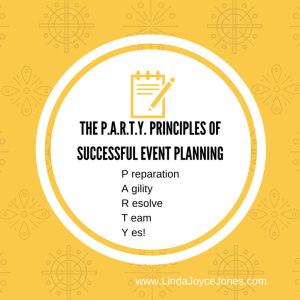 A large service corporation planned a customer event at a large hotel near their headquarters. Customers were flying in from all over the United States, and the event planning team had worked tirelessly on every detail. Then, two days before attendees were to arrive, the sprinkler system at the hotel malfunctioned and all of the ballrooms were completely flooded, rendering them unusable.
A situation like this can surely make you feel like curling up in a corner, but as an event organizer there's no time to panic.  The corporate team and the hotel got to work; they were able to find another local venue that had the space available to accommodate the conference. There wasn't a lot of sleep that weekend, but by Monday morning it was as if the event was always meant to be held at the new venue.
The reason this conference ended up being huge success despite the snags is because the planning team was able to think on their feet and improvise; they used the P.A.R.T.Y. plan.
The P.A.R.T.Y. Principles of Successful Event Planning are:
P  is for Preparation – visualize your goal, identify mission-critical activities, and create an action plan.
A is for Agility – the ability to think on your feet and adjust your plan when necessary.
R is for Resolve – staying physically and mentally strong in order to maintain your momentum and persevere.
T is for Team – assemble a trusted team to implement your plan.
Y is for Yes – take your events to a new level by saying YES to new ideas, new opportunities, and new adventures! Fresh ideas are always being shared on social media; follow event planners on Twitter such as @EventMB and @BizBash. Or join LinkedIn groups like Event Planning and Event Management.