It was Friday morning. I had just wrapped up a week-long business trip to Texas along with two of my associates. At the end of the week, we were ready to head back home with lots of energy and new ideas to share. We didn't bother to print our boarding passes before we left the hotel – we had allowed plenty of time to check in at the airport before our flight (or so we thought).
What we didn't realize was that the day before, in the city where we were catching our connecting flight, a severe storm had passed through, causing major hail damage to dozens of planes. This was causing serious delays nationwide as the planes were taken out of service for inspection and repair.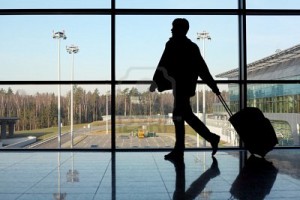 To make a long story short, all of this resulted in us spending the night in the Dallas-Fort Worth airport, having missed our connecting flight home and hoping for better luck the next day. We had all decided to travel light, and had put things in our checked luggage that we normally would have had in our carry-ons. None of us were rookies when it came to business travel, but we all made some rookie mistakes on this trip!
Here are the lessons learned and air travel tips that I will not forget on my next business trip:
1) I will always have my boarding pass printed out prior to arriving at the airport.
2) I will always check for delays at my departure city, arrival city, and connecting cities, using an app such as Flightrack Pro.
3) I will always pack my phone charger in my carry-on (and my car keys in case my checked luggage doesn't make it back on the same plane that I am on!)
4) I will always have the airline's rebooking number bookmarked or programmed into my phone.
5) I will always have a jacket or sweater in my carry-on as well as a set of earplugs (because I now know how cold and noisy an airport can get at night.)
6) I will always have a travel toothbrush and other necessary toiletries to get me through an overnight without my checked luggage.
7) I will always try to pack so I won't have to check any luggage (why, hello there Containerstore.com – I love your luggage and your nifty little travel products to make packing more efficient!)
8) I will always try to keep my sense of humor – it's the only way to fly!
What are your best air travel tips – apps, gadgets, avoiding rookie mistakes – let us know!