If your profession requires you to attend one or more conferences each year, you already know that it is a big investment of time and resources. Registration fees, travel, accommodations, transportation, and meal costs can quickly grow into a significant expenditure. A conference can also be an incredible opportunity to grow in your profession, network with peers, and gather information that could be crucial to the success of your company.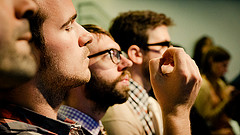 All it takes is a little advance planning to squeeze every bit of education, collaboration, and inspiration from your next conference. Here are a few tips to help you get the most out of your attendance:
Check to see if the organizers will be providing a conference bag when you arrive. If so don't bring your own briefcase or tote; instead bring a small laptop sleeve or zippered bag with your own personal items to slip into the conference bag. After a full day of lugging things from one breakout session to the next, you'll be glad you don't have that extra weight to carry.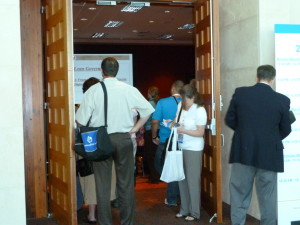 Your personal conference bag should include hand sanitizer, pain reliever, and breath mints. Also bring your own notebook and pen, a supply of business cards, and reading glasses if you need them. Leave your laptop in your hotel room, or better yet leave it at home if it's an option. Stay connected via your smartphone or tablet.
Wear comfortable shoes. This is not a fashion show; it's a marathon! Larger conference venues could have sessions spread out over many different buildings, which means you could be logging a lot of steps throughout the day. If you're a presenter at a conference or trade show, you could also be standing for hours at a time, so make sure you have the right shoes for the job.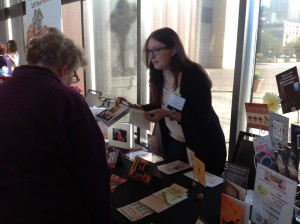 If the final agenda is available online prior to your arrival, spend some time reviewing it and selecting the first- and second-choice sessions you want to attend.  Conference planners do their best to ensure that room sizes will accommodate everyone, but from time to time you may be shut out of your first choice; be prepared with an alternate selection.
Take a jacket or sweater, or dress in layers. Organizers may have no control over room temperature, so come prepared to dress for anything from artic cold to sweltering heat.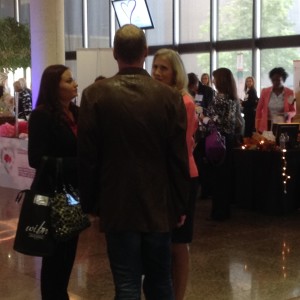 Network! Attend all of the social events, talk with others at your meal tables about the sessions and the speakers, ask them what they do and where they're from. Exchange business cards, writing on the back of the card a few words to jog your memory about what you discussed and what was most interesting about that person. Connect with people on LinkedIn after it's over (including the speakers.) There's so much to learn from others both during the conference and beyond; take advantage of every opportunity to meet someone new.
Take notes. Copies of PowerPoint sessions can typically be viewed after the event is over, but after several days they can lose their context. Personally recording key points in a notebook or in your Evernote app will help the primary concepts stay with you much longer and help you formulate action steps. What is your strategy to propose changes based on what you've learned, and who do you need to share it with? Keeping notes will also help keep you engaged during the session and help you get the most out of the conference.