When looking for wedding ceremony ideas, our recent newlyweds were determined to find something unique to symbolize their union rather than the traditional unity candle or sand ceremony. They decided to hold a tree planting ceremony, a lovely crepe myrtle that would be planted in the yard of their new home.  To further represent the joining of their two lives, they gathered soil from their respective hometowns, and spread it around the tree during the ceremony.  We all looked on as they blended the dark brown soil of Ohio with the reddish soil from North Carolina around the tree and then carefully added water – such an appropriate way to signify the joining of this sweet couple!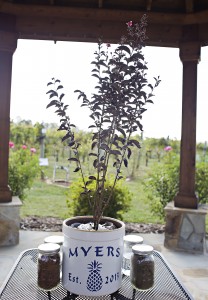 This was the text that was read during the ceremony:
Unity Tree : We will be adding two scoops of soil to a small potted tree. One scoop of soil will be from Kelly's hometown, and the second scoop of soil will be from Brent's hometown. The mixing of these two soils will symbolize the merging of our two lives, past, present, and future. We will then each add water to the tree to symbolize the nurturing and care that our relationship will need over time in order to grow. After our wedding day, we will take this tree home and plant it in our yard. As we watch the tree grow over the years, it will serve as a reminder of our wedding day, our vows and commitment to one another, and of our love for each other.  
Ephesians 3:17-19
And I pray that you, being rooted and established in love, 18 may have power, together with all the Lord's holy people, to grasp how wide and long and high and deep is the love of Christ, 19 and to know this love that surpasses knowledge—that you may be filled to the measure of all the fullness of God.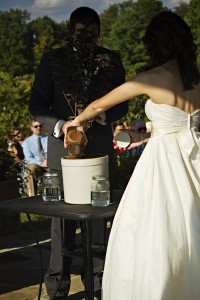 I can't wait to see how this tree, and this marriage, grows and flourishes over time!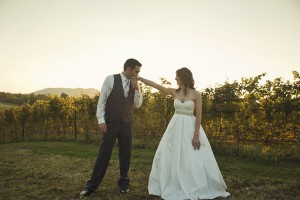 Have you seen any unique elements at a wedding you've attended?  Share them here.