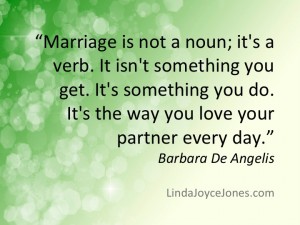 I love this marriage quote, but it's also true that I love weddings! I have beautiful memories of my own wedding, and I can't wait to watch my own children walk down the aisle when their time comes.
But "getting married" has very little to do with what happens on day one.  My parents are a testimony to that. They didn't have a photographer or a reception or a band on their wedding day.  My mother didn't have an expensive dress or a ton of bridesmaids. They didn't go into debt or stress out about table favors or guest lists. Regardless of their low-key beginning, they're still going strong 55 years later in a devoted partnership filled with love that I am blessed to witness every time they look at each other.
The moral of the story is this – carefully consider how much time, energy, and resources you choose to spend on day one of your marriage.  Save your best for day two, day three, and beyond – they are the days that really matter!
Need some ideas to take the stress out of wedding planning? Check out these recent posts:
Welcome Bags for Your Out-of-Town Wedding Guests
Want to start at page 1 of this event planning blog?  Click here