If you're looking for a way to trim the cost of your dream wedding, it's time to take a look at creating your own flowers, from your bouquet to the boutonnieres and tablescapes.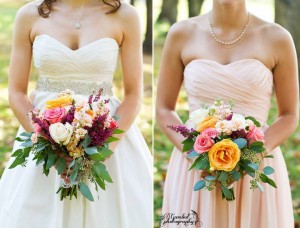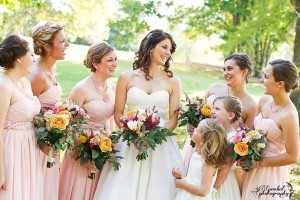 There are a few things you need to do in order to successfully create your own flowers on a budget:
Determine your overall theme and color palette and choose flowers that will complement your design.
Select flowers that will be in season at the time of your wedding, and flowers that are hardy enough to survive less-than-ideal conditions. Pinterest is a great place to gather ideas, but be cautious about falling in love with pictures of rare, expensive, or fragile varieties that won't hold up or are so expensive that they will blow your budget.

Find a reputable resource – someone who knows flowers and who is willing to work with you to meet your delivery needs.  We had great success working with the floral department at our local Whole Foods grocery store. Their staff worked with us to determine quantities and source certain varieties through their suppliers.

Determine when you will put together your arrangements and who is available to help.  It took 4-5 people working about 3 hours to get 6 bouquets, 4 corsages, and 9 boutonierres completed on the day before the wedding.  It didn't take long for everyone to get the hang of it – again, there are lots of tutorials on Pinterest and YouTube that you can watch to get started. I would not recommend leaving anything to the day of the wedding – there will be enough to worry about, and time will fly!
Practice! Get a couple of inexpensive bunches of flowers from your local grocer and practice assembling a bouquet or table arrangement – it would be hard to make a beautiful flower look bad, so don't be intimidated – you can do it! In the bouquets pictured above, we bundled small groups of flowers together that were easy to manage, then taped 3 bundles together to create the final bouquet.
Have the right materials on hand – shears or pliers, floral tape and Oasis floral adhesive (a quick drying adhesive for assembling corsages and boutonnieres – it's fast drying like hot glue, only it isn't hot, and is much easier than wire!), floral wire, and spray preservative especially made to keep cut flowers looking fresher longer.
Think about where you will store your bouquets and other flowers from the time you pick them up until the day of the wedding.  They need to be in a cool place.  Your venue may have a walk-in refrigerator or wine cellar where the temperatures are cool enough to preserve the flowers until they're needed.  Boutonnieres and corsages can be placed in clear plastic bags (think the plastic goody bags that you get at your local party supply, or quart-size Ziploc bags that aren't quite zipped all the way so excess moisture can escape instead of causing your flowers to wilt or brown.)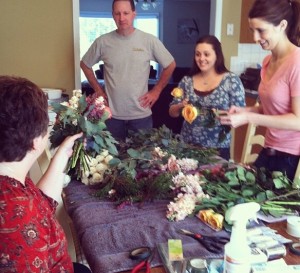 We had a ball putting together the wedding flowers for Kelly's wedding day, and we did it for less than half of the cost of hiring a florist.  But only you can decide if you have enough time and enough help to create your own wedding flowers without adding a lot more stress to the planning process.
Did you create your own wedding flowers?  Share your tips and ideas here!