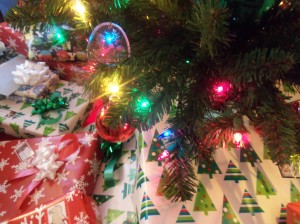 For most of us, this month is chock-full of events and activities. We have a calendar full of concerts, office carry-ins, cookie exchanges, and ugly-sweater parties in addition to regular work and school schedules. Our heads are swirling with recipes, shopping, decorating, and card-sending. Add family events like play practice, choir performances, costume-making, gift exchanges and traveling to visit extended family, and you've got a perfect storm that can quickly turn your life into a disaster zone full of anxiety and stress. If your heart is beating a little faster just reading these words, the stress is already starting to seep in.
The best way to get a handle on the chaos of the next few weeks is to spend some time getting uber-organized. And the very best way to do that (get ready for the four-letter word) is to become an obsessive LIST-maker.  You may have heard it before because it's true; a LIST, or several of them, is the best tool to organize your thoughts and identify action items as well as a priority for each.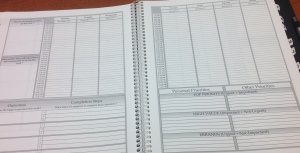 Don't wait – grab a notebook, or use your favorite list-making app, and get busy!  Use this L.I.S.T. to keep you on track:
L 

og

 – Start by logging every event on one calendar so you can get a clear view of the big picture. Review your calendar on a daily basis so you can create your action plan several days ahead.  Think about where you will be each day and how you might accomplish certain tasks in the course of your travels. For instance, if you're stopping at the store to pick up a few items for dinner, check your list for gift cards, stocking stuffers, or party supplies that you might pick up while you're there. If you have a few extra minutes during your lunch hour, go online and do some comparison shopping or Pin a few items on your Pinterest boards (see below.)

I

ndividual Events – Prepare a list of activities, supplies, guests, menu, etc. for each event for which you have responsibilities. If you're the host or organizer, this could evolve into several lists for a single event. These individual items get transferred to your shopping lists by date and priority. Create a Pinterest board for cookie recipes or party planning.
S hopping and Gifts – First prepare a gift list, organizing items by person, then adding the store or website where each gift can be obtained.  Next, add the items to a list of physical stores and/or websites you need to visit. This eliminates the need for repeat trips to the store, and the ability to group online orders together so you can take advantage of free shipping and other discount offers.
T ravel – Creating a comprehensive packing list will help you identify what may need to be purchased for the trip, what gifts need to be purchased and wrapped first, what needs to be cleaned, when to get your car serviced, and reminders to place on the calendar to make arrangements for pets, mail, etc.
Becoming a list-maker can accomplish many things. It can help you to free your mind from the millions of tiny details that you're trying to keep track of, which will allow you concentrate on more important things.  A quiet mind can also increase your chances of getting a good night's sleep, which is crucial to staying healthy during this busy time. Having a good list at hand ensures each shopping trip is thorough and efficient, saving time and gasoline spent on repeat trips. And speaking of saving money, using a list to get a jump-start on your gift shopping will prevent having to ship items at the last minute, saving a ton on express shipping fees.
LIST is a four-letter word you should be using every day!