Are you looking for a healthy gift idea?  If you're short on time but want to step it up a notch from the last-minute gift card, I recommend heading to your local grocery store.
I put this healthy gift basket together for about $65.00, including the felt storage box which I purchased instead of a basket so it would appeal to either a man or woman.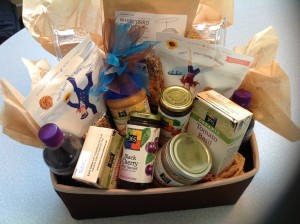 Contents include organic peanut and almond butters, jars of 100% fruit spread, organic soups, granola, energy bars, flax and honey crackers, protein-filled snacks and filtered bottled water, all purchased from Whole Foods.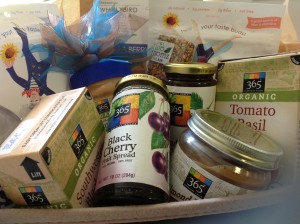 This would be a great hostess gift, raffle basket donation, or exchange gift.