In previous blog posts I've written about the fact that we no longer serve birthday cakes at our monthly office birthday celebrations. With the plethora of sweet treats already coming into the workplace, we decided that at least 12 times a year we would incorporate some healthier offerings into the mix.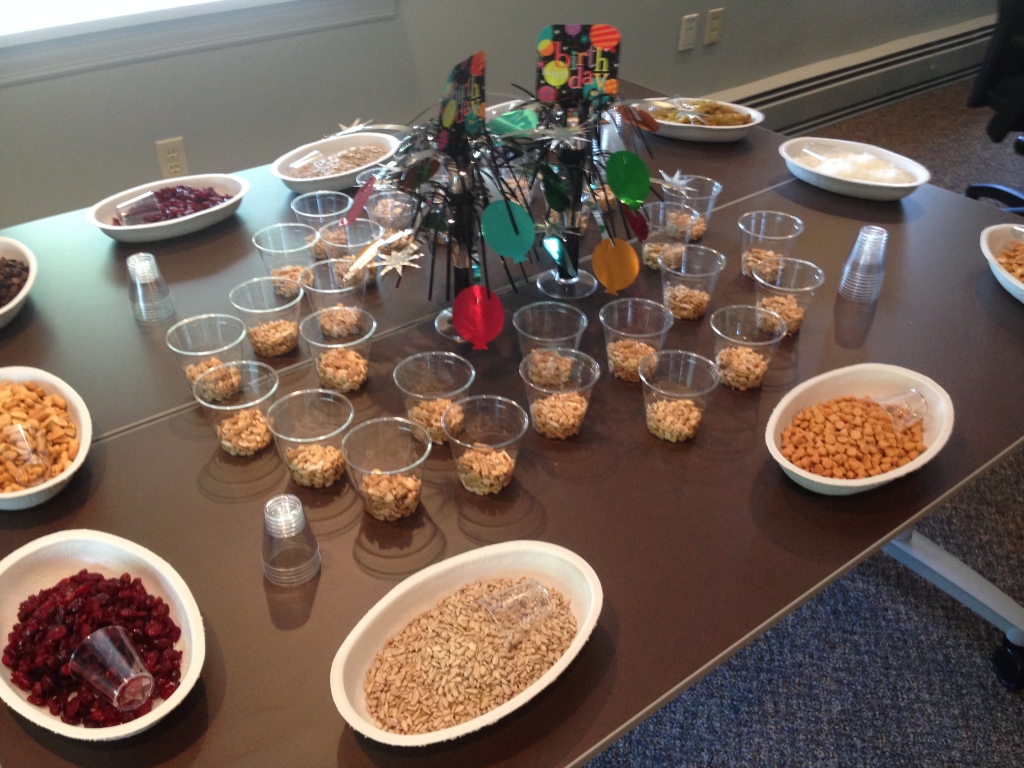 After almost a year, the reaction has been very positive.  Team members walk into the birthday party wondering what awaits them. It's true, a few people made a face when they saw the platter of hummus and veggies, but most people are on board with the changes.
Be resolved to give this a try in your office next year!  To help you get started, I've listed an entire year's worth of healthy snacks below, including links and recipes where needed.
Have a Healthy New Year!
January – Peanut Butter, Banana, and Craisin Rollups – Easy to eat, and makes you feel like a kid again! Thanks to Craisins.com for this picture and recipe.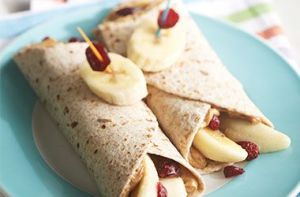 February – Fruit Skewers and Veggie Cups – This one is simple; using wooden skewers, thread grapes, apple chunks, pineapple, strawberries, and banana slices.  Next, pour a layer of your favorite low-fat ranch or other salad dressing in the bottom of a cup, and fill with any combination of carrot sticks, celery sticks, and green/red/yellow pepper strips.  Yum!
March – Make Your Own Trail Mix – I put a couple of tablespoons of Kashi GoLean Crunch cereal in the bottom of a clear plastic cup, and then placed bowls of other ingredients so people could add scoops to their liking.  Other ingredients include flaked coconut, golden raisins, chocolate chips, dried cranberries, peanuts, and sesame seeds.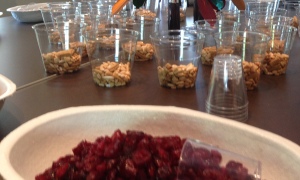 April – Berry Parfaits  – In clear plastic cups, layer blueberries and sliced strawberries with low fat vanilla yogurt, and top with a few raspberries.
May – Hummus and Veggies – The primary ingredient in hummus is the chickpea. It has no cholesterol or trans fats. It's also gluten free, Kosher, and filled with fiber and protein. Pick a couple of hummus flavors, and pair them with baked pita chips and veggies sliced for dipping.
June – Angel Food Cake with Strawberries and Whipped Cream – Okay, this month we cheat a little, but Angel Food Cake is virtually fat-free.  We put a few cubes of the cake in a bowl, topped it with loads of in-season strawberries, and topped it with some fat-free whipped cream.
July – Dreamsicle Smoothies – This concoction is cool and creamy, perfect for a summer treat.
August – Ballpark treats – Popcorn, Peanuts, and Cracker Jack – Not a lot of prep here, just giant bowls of crunchy goodness. If you don't go too far with butter and salt, you've got a pretty healthy snack.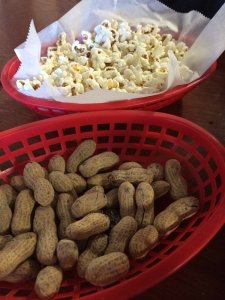 September – Apple Slices with Fat-Free Caramel Sauce – Self-explanatory; I bought a good apple corer/slicer to quickly prepare 3 dozen apples and made the caramel sauce available drizzle on top along with some chopped peanuts.
October – Spooky Fruit – Candy Corn cups were layered to look like candy corn; pineapple cubes first, then tangerine slices, a shot of low-fat whipped cream, and a piece of candy corn on top.  Banana Ghosts were simply bananas cut in half and semi-sweet chips pressed into the fruit for eyes and noses.  Whole tangerines were peeled and little slices of celery were used for the stem to resemble tiny pumpkins.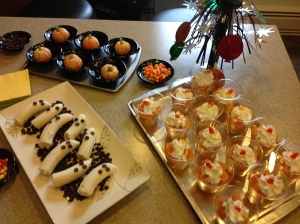 November – Individual Layered Bean Dip Cups – By carefully choosing low-fat or no-fat ingredients, this one is pretty healthy and can be customized to individual tastes. We made a few cups in advance with all ingredients, and then let the rest of the group make their own so they could eliminate the layers they didn't like.
December – Gingerbread Smoothie – Sweet, spicy, and healthy!  A perfect smoothie for the holiday season.
You'll need a few basic supplies to get started with your get-healthy campaign, including a sharp knife, a cutting board, and a good blender.  Add some wooden skewers, plastic cups, and disposable bowls, and you're all set.
What snack ideas can you add to this list? Remember to think fresh, think seasonal, and think healthy!!