CELEBRATING HOME
Are you hesitant about inviting people to your home for a holiday party or other special event because you think it isn't company-ready?  Many people miss the opportunity to create great memories with family and friends because they think their home is deficient in some way.  It's time to bust those myths once and for all!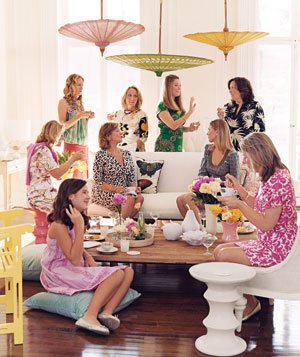 Myth #1 – My house isn't big enough
You don't have to have a formal dining room or single table that seats all of your guests; you don't even have to seat everyone in the same room.  Encourage more interaction among your guests and a create a less formal atmosphere by placing drinks in one room, food in another room, and scattering seating throughout the public areas (including the front porch or back deck if weather permits). Utilize lap trays, folding tables, or even small patio furniture to increase your seating capacity.
Myth #2 – I don't have matching tableware/glassware/flatware/serving pieces
No one said that everything has to match in order to entertain (and if someone did say it, they are dead wrong!).  Mix and match pieces you already own, or borrow a set of dishes or flatware from a friend.   There are also some disposable party items that are quite suitable that have the added bonus of providing quick and easy cleanup.  Try the clear plastic style – it's sturdy enough to wash and re-use if you wish, you can buy it in bulk at your local shopping club or party goods store, and it will blend nicely into any color scheme or decor.
Myth #3 – My house isn't clean enough
While it's true that you'll want to give the bathroom and kitchen some attention before guests arrive, don't think that your home must be sparkling from floor to ceiling before you can entertain.  Clear out the worst of the clutter from the public areas, wipe down major surfaces, dim the lights, close some doors, and forget about the dust bunnies in the corner or the stain on the carpet – your guests will never notice.
Next – Selecting a Venue Part 2
Want to start at page 1 of this book blog?  Click here