This fan-style wedding program not only provided the order of the ceremony and other information about the wedding, it came in handy when the sun started getting a little intense at this outdoor NC wedding.
We started with 110 lb. ivory card stock, a punch for rounding corners, a regular hole punch, some 12 x 12 transparent vellum scrapbook paper, and some narrow ribbon.  Using MS Word, we created 3 equal sized text boxes approximately 7 1/2″ x 2 3/8″.  The Apple Chancery font (size 8) was a good choice for the relatively narrow print area we had to work with.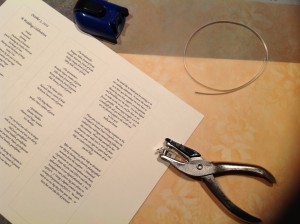 The first panel had the order of the ceremony, the name of the bride and groom, parents, maid of honor, best man, and officiant.  The second panel listed the bridesmaids and groomsmen, flower girls and ring bearer, as well as a list of deceased loved ones that the bride and groom wished to honor. The final panel provided a special message from the bride and groom to the attendees, some instructions for where to proceed immediately after the ceremony, and where to share photos online that were taken throughout the evening.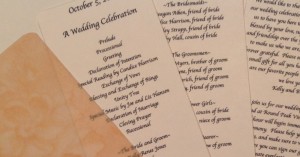 We made sure to leave a little extra space at the bottom of each text box to allow for assembling the program without obscuring any of the text.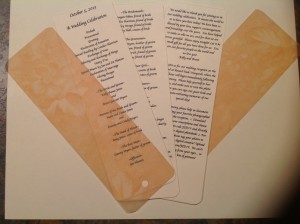 Once we had the panels printed out, it was a matter of using a paper cutter to cut out the text boxes and a front and back cover the same size, using a corner-rounder on each corner, punching a hole in the bottom and tying them together with ribbon (not too tight or you won't be able to spread it out into a fan shape!) We used the lightest gray possible to outline the text boxes to make it easier to make our cuts uniform in size.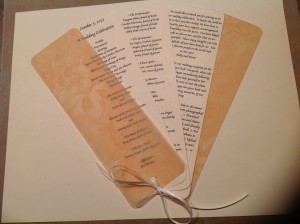 Fun, informative, functional, and a beautiful keepsake – this project was definitely worth the effort!