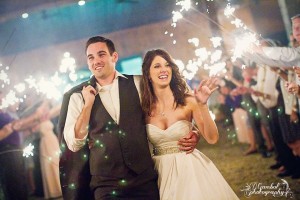 Wedding planning can be a rewarding, exhausting, exhilarating, time-consuming, and joyous time. I know this to be true because my daughter was recently married in a beautiful ceremony at a vineyard in North Carolina, which provides some explanation as to why this blog has been so quiet in recent weeks!
There was a lot of work involved in arranging all of the elements that led up to the finale captured in the photo above. We heard many comments on the day of the wedding about how calm, how organized, and how smoothly everything went.  It was no accident – there were many months of detailed planning and organizing that allowed the day to be stress-free for the bride and groom.
If you are starting to plan your dream wedding, and don't have the benefit of hiring a professional, no Jennifer Lopez running around with her magical wedding planner tool belt ala The Wedding Planner, don't panic.  Navigating venues and vendors can be a little overwhelming, but with a well-organized plan and some help from trusted individuals, you can have the wedding of your dreams without driving yourself crazy.
Bookmark this blog series, which will include bridal shower ideas, flower arranging tips, creating unique programs and tablescapes, and how to manage the "day-of" madness. Feel free to add comments with ideas of your own so others can learn from your experiences.
Photo Credit: Gambol Photography