Our company wanted to celebrate a special milestone in the life of our organization by hosting a thank-you party for our employees.  I suggested that instead of the typical catered lunch that we host a tailgate party.  It turned out to be a team building event and we all had a blast!
We picked team leaders, randomly assigned the attendees to a team, and announced the teams the day before, as well as the events each team would have to complete (we did not share the specific rules for each event until the day of the party.)  The team with the highest score at the end of the contest would win a prize (Amazon gift card for each team member.)  The teams immediately started organizing team colors, team names and trash-talking the opposing teams!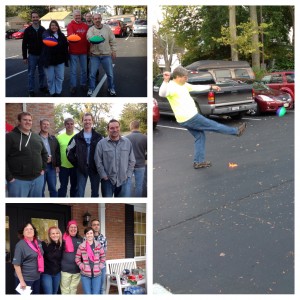 On Friday afternoon, we closed at 3:00, and provided a spread with all kinds of finger foods (wings, corn dogs, pizza rolls, veggies, dips, chips, etc.)   We had a random drawing every 15 minutes for some great prizes (i.e. NFL football tickets, dinner for 4 at local restaurants, AMEX gift cards, a free vacation day, and an overnight stay at a local hotel/indoor waterpark).
When the games began, we handed each team leader their scorecard and the rules for each contest, and told them they had one and a half hours to complete all 5 events.  Some events were played directly against another team, like the football relay and cornhole contest, but the others ("beer" pong, ring toss, and field goal kick) were played by a single team and successful throws/kicks/tosses were tallied by the team leader as they completed each contest.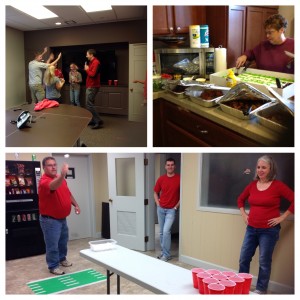 Our rules were simple, but you can adjust them any way you like to fit the size of your teams and your environment:
"Beer" Pong (no drinking involved here, only counting successful throws!) – pick 4 members from your team to play – each member has 3 throws – 1 point for every ball that lands in a cup – no bounces or ricochets, only clean throws count.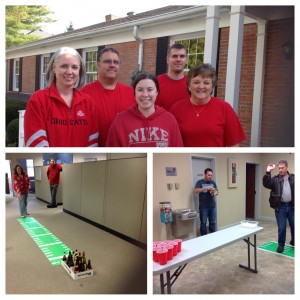 Ring Toss – pick 4 members from your team to play – each person has 4 tries to get the rings around the bottles, must stand behind the green playing field, ring must go completely over the bottle – 1 point per ringed bottle.
Field Goal contest – pick 3 members from your team – each person has 3 kicks – 1 point per successful kick over and through the goal posts.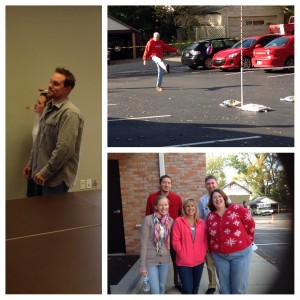 Football relay – pick 4 members from your team to play against another team – each member must put the end of the spoon in their mouth with a football resting in the opposite end, and walk from the designated starting line around the course to the finish line without touching or dropping the football – must start over if either of those occur.  First team that successfully completes course wins (5 points to winning team, 2 points to losing team)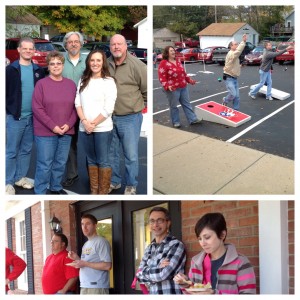 Corn Hole – teams will play one doubles match against another team – each player throws 4 bean bags each round – if bag lands and stays on the board ('in-the-count'), it is 1 point – if it falls 'in-the-hole', it's 3 points – no cancellation scoring, every 'in-the-count' and 'in-the-hole' counts toward total score (to make the match go faster) – first team to 21 points wins (5 points to winning team, 2 to losing team.)
A team-building event doesn't have to cost a lot of money or take a lot of time and resources to plan. Give a try where you work, or for your next block party or family reunion.
Any suggestions for our next team-building event? Post your comments below.