I was at a conference in a large southern city, and for one week I had enjoyed a beautiful view of the historic waterfront from my room on the 16th floor.  The night before I was scheduled to fly home, a severe storm blew through, with sheets of rain and lightning so severe that the power was knocked out.  Although the hotel generator kicked in quickly, the fire alarm was activated and everyone was ordered out of their rooms and down the emergency stairs by a loud voice booming over a loudspeaker.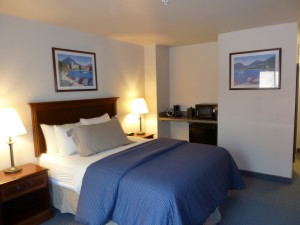 If it had been one night earlier, I wouldn't have been able to easily lay my hands on my room key, cell phone, purse or laptop, because they were strewn all over the room.   But because I was packed and ready to leave early the next morning, it was easy to grab my purse and briefcase and quickly head for the fire exit.  I was also grateful that I had chosen to sleep in clothes that were substantial enough to wander outside without embarrassment.  Of course, nothing could prepare me for having to slip and slide down 16 flights of wet stairs (why they were wet I have no idea!) and wind up at the kitchen loading dock in my pajamas with dozens of fellow hotel guests, several of whom were my clients attending the same conference!
I learned a few things that night that served me well one year later when another fire alarm went off in another hotel in another city:
1. Know the way out – scout out the location of the fire exits when you arrive on your floor.
2. Make sure you would feel comfortable leaving the room in the clothes you are sleeping in.
3. Keep important belongings together and in a spot where they will be easy to grab if you have to leave the room quickly – if nothing else, be able to lay your hands on your room key, cell phone, purse or wallet in the dark.
4. Consider what floor your room is on when you check in – higher floors provide great views, but you must be prepared to climb down dozens of flights of stairs in an emergency (and back up again if the elevators aren't working!)
What business travel tips would you add to the list?
If this information was useful to you, please take a moment to pin or share this link with others – thank you!
Need the basics? Start here.