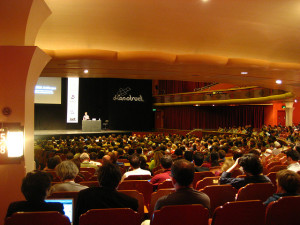 The Morial Convention Center in New Orleans has 1.1 million square feet of exhibit space covering almost 11 blocks, and is home to some of biggest and most prestigious conferences and trade shows in the nation. When I attended a week-long conference there a few years ago, I thought I was well-prepared. My flight and hotel reservations were made early and went off without a hitch. I had spent some time reviewing the agenda in advance and had created a plan of attack that would ensure that I would get the most out of every day. I even took my laptop to take advantage of the breaks provided and get a little work done.
On Day One, I was ready to go. Ignoring the conference shuttle parked in front of my hotel, I briskly walked from my hotel to the convention center and followed the signs inside the venue to the registration area, thinking pleasantly about all of those extra steps I was going to log on my exercise tracker.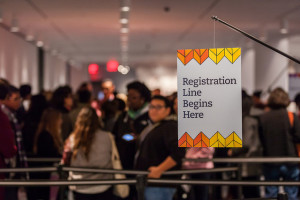 When I finally arrived at the registration area, I was presented with a conference bag full of information and goodies (I was already toting a large-ish purse and a laptop bag), determined the location of the first session, consulted the map provided, turned around and started walking. I walked, and walked, and walked…and started regretting a few of my choices less than an hour into the conference.
I regretted my shoe choice. These were hard concrete floors covered by a thin commercial carpet, and I was wearing dress heels; not super tall, but heels nevertheless. The ball of my foot started to ache, and the back of my heel was starting to rub. I thought about my co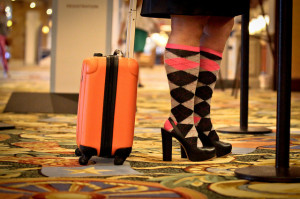 mfy flats tucked away safely in my hotel room a half-mile away.  What had I been thinking?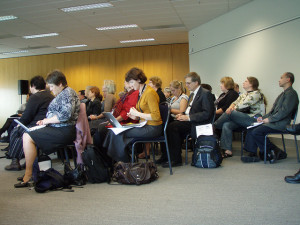 I regretted my choice to bring my laptop. As I kept shifting my 3(!) bags from shoulder to shoulder, I knew that any bit of work I could accomplish during breaks wasn't worth the agony of having to haul this additional giant bag around all day.
I regretted my choice to carry my large purse. Did I really need to be carrying around my grocery store coupons, checkbook, giant wallet and emergency makeup kit? Every unnecessary ounce began to weigh heavily as the day progressed.
I learned so much that week. Much of it was provided in the sessions organized by the conference planners. Other lessons were longer-lasting, and I incorporate them into every conference or trade show that I attend. Here are my top tips for attending a business conference:
Leave the laptop at home. If you must stay connected, use a light-weight tablet to check email, take notes, and log in to work.
Save your large purse/tote to use as an airline carry-on. Instead, pack a small clutch or zipper pouch that you can drop into the conference tote. Then fill it with the necessities: plenty of business cards, mints, hand sanitizer, a ball-point pen (they won't smudge on a glossy business card), chapstick, pain reliever, a slim wallet with cash, credit card and hotel key, and your cellphone and charger.
Invest in some serious shoes made for comfortable walking. No ballet flats, no spiked heels, but substantial shoes with great cushion and arch support. If you can, change shoes once during the day or at least have a second pair so you can switch them up from one day to the next – your feet will thank you!
Dress in layers to combat the range of temperatures you may encounter as you move from room to room. Conference planners often have little or no control over room temperature.
Hydrate throughout the day to prevent fatigue, muscle cramps and lightheadedness.
Use your breaks to stretch, check messages, introduce yourself to speakers, and network and get to know those around you. You can create some great new business relationships that will yield dividends later.
Follow these simple tips for attending a business conference and you are sure to have a meaningful, comfortable, and productive experience!