A basket raffle can raise a lot of money for your organization.  Here are some raffle basket ideas to get you thinking about baskets that can be created for your event.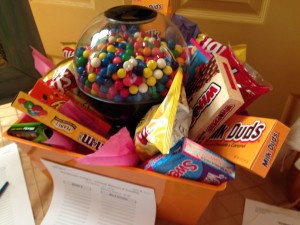 KIDS
1)  Arts and Crafts: markers, crayons, glue, scissors, construction paper, glitter pens
2)  Sports of All Sorts: jump rope, sports drinks, hula hoop, Nerf balls, badminton, other sports balls, waffle ball set
3)  Beach Bash: beach toys, sunglasses, goggles, pail and shovel, lip balm, sand molds, small net
4)  Snack Basket: roll­-ups, juice boxes, snack crackers, raisins, packs of chips or cookies
5)  Outdoor Fun: balls, rubber band airplanes, kites, bubbles, sidewalk chalk, watering can, gardening tools
6)  Snuggly Bear Basket: stuffed bears of all shapes and sizes, gummy bears, Build-a-Bear gift card, bear jigsaw puzzle
7)  School Daze: notebooks, pens, pencils, backpack, ruler, compass, flash drive
8)  Ballet Basket – tights, leotards, shoes, socks, hair bows, water bottle, stickers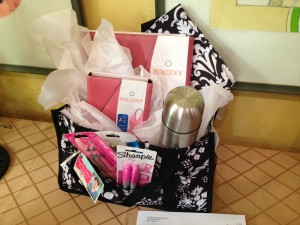 WOMEN
9)  Scrapper's Basket: stickers, adhesive, notions, markers, paper assortments, stamps, albums
10) Bath and Body: lotion, loofah, body wash, sponge, scented soaps, perfume or body splash, hand and foot care products
11) At Home Date Night – gourmet snacks, scented candles, music or movie dvd's
12) Going Out Date Night – gift certificates for restaurants, movies, coffee, etc.
13) Girl's Best Friend Basket – jewelry box, earrings, necklaces, bracelets
More Basket Raffle Theme Baskets 
14) Makeup Basket – Avon, Mary Kay, Smashbox, etc.
15) Mani/Pedi Basket – pumice stone, clippers, files, a variety of polish, buffer, polish remover, toe separators
16) Home Spa Basket – loofah, eye mask, lotions and shower gels, slippers, relaxation CD
17) Vera Bradley Bundle – bag, purse, wallet, laptop case, keychain, luggage
18) Green Thumb Basket – gloves, garden implements, seeds, pots
19) Meditate on This – relaxation CD's and DVD's, yoga mat, how-to books
20) Stationary Basket – envelopes, scented paper, thank you notes, postage stamps, fountain pen
21) Baker's Dozen – cookie sheets, cookie and brownie mixes, spatulas, non-stick  spray, sprinkles and other decorations
22) Green Spring Cleaning – variety of green cleaning products and implements
23) Quilter's Delight – fabric, thread, needles, patterns, cutting mats, magnifiers, seam ripper, batting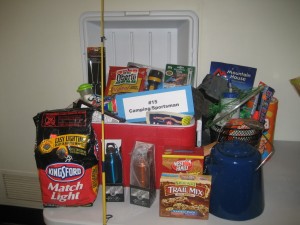 MEN
24) High Spirits Basket – assortment of  imported beer or wine
25) Super Bowl Party Basket – snack assortment, football-related decorations, disposable snack plates and napkins, cooler
26) Outdoorsman Basket – variety of fishing tackle, camping food and supplies
27) Hunter's Lair Basket – everything camouflage – socks, face mask, cap, shirt, hand and feet warmers
28) Car Care – wash and wax supplies, mitt, chamois, tire shine, air fresheners
29) Tee Time Basket – balls, tees, golf towel, divot repair tool, glove
30) Bar Basket – Bottle openers, mixers, peanuts, glassware, cocktail shakers
31) Tailgate Party Basket – grill, cooler, radio, folding chairs, tableware, BBQ tools
32) BBQ Galore  – variety of barbecue sauces and marinades, grilling implements
33) Tool Time – hammer, nails, screws, level, stud-finder, adjustable wrench, pliers,
34) Hot Stuff – variety of hot sauces, wasabi peas, beef jerky, jalapeno chips, anything with a spicy kick
 ANYONE
35) Cookie Time: cookie mixes, spatulas, storage containers, baking sheets, potholders, chocolate chips
36) Team Loyalty Basket(local, college, or professional): bumper stickers, pom-poms, t-shirt, socks, key chain, anything with the team logo on it
37) Chocolate Lovers: candy bars and bags of candy of all kinds, cocoa mix, cake and cookie mixes, chocolate-flavored cereal, melting chocolate with reusable molds
38) Puzzles and Games: board games, card games, jigsaw puzzles
39) Breakfast Basket: tea, cereal, syrup, pancake mix, waffle mix, Pop-Tarts, cocoa, mug
40) Movie Basket- Microwave popcorn bucket, dvd or rental certificates, movie candy, Snuggie
41) City Basket – items unique to a city or region – sports team tickets, museum admission, restaurant certificates, logo clothing or other memorabilia (an airport gift shop is a great place to find city-specific items)
42) Get In Shape Basket – hand weights, mat,  jump rope, exercise bands, dvd's
43) Runner's Basket – socks, ankle/wrist weights, reflective gear, mp3 armband
44) Pasta Passion – pasta noodles, sauces, colander, spaghetti ladle, olive oil, Italian spices
45) Dog/Cat Basket – variety of animal toys and treats, grooming products, leash
46) Picnic Basket – basket, table ware, food containers with lids, ice packs, tablecloth
47) Fast Food Feast – variety of fast food coupons and gift cards
48) Merry Christmas Basket – holiday decorations, candles and candle holders, hand towels, gift books, CD's
49) Organizer's Dream – file folders, label maker, stapler and staple remover, tape dispenser, dry erase board and markers, magazine holders, pencil cup, paper clips, post-its, planner
50) Caffeine Lover's Basket – variety of ground coffees, whole beans with grinder, French press, mugs, flavored syrups
51) Baby Basket – blankets, onesies, diapers, lotions/creams/powders, nail clippers, socks, toys
52) Family Fun Night – puzzle books, DVD's, board games, snacks
53) Mexican Fiesta Basket – taco kit, salsa, tortilla chips, rice, beans, spice mixes,  Mexican cookbook, music, themed dishtowels
54) Computer Geek Basket – flash drive, mouse pad, wireless mouse or keyboard, themed t-shirt, computer store certificates, how-to books
55) My Tunes Basket – mp3 player, music download gift cards, cd's, headphones
56) Toasty Warm – gloves, socks, scarves, earmuffs, hand/foot warmers, blanket, hot drink mixes
57) Health Nut Basket – organic nut butters and fruit spreads, granola, snack bars, organic soups (see example here)
For the specifics of running a basket raffle, go to Basket Raffle – How It's Done.
Need more fundraising ideas? Check out how to hold a Reverse Auction or Pound in a Purse Auction.
If this information was useful to you, please take a moment to pin or share this link with others – thank you!
Need the basics? Begin here.