Make day one of your college career as successful as possible by remembering a few simple tips:
– Plan to move in on the stated move-in day.  This is the day when the school is most likely to have modified traffic patterns to get you onto campus and get your vehicle as close as possible to your dorm.  Most schools will have a move-in squad, a group of students and volunteers that have been trained to help you get through the check-in process, get you to your dorm, help you unload and maybe even get your belongings to your room.
– Plan to arrive at the prescribed time.  If the school suggests getting there between 9 and 11, try to make that window.  The school knows that by staggering student arrival times there is a better chance of avoiding bottlenecks on the streets and in the hallways.
– Have a change of clothes ready – after you've arranged and rearranged the furniture, crawled under desks to plug in your electronics, and hauled boxes for what seems like miles, you're going to want to have a fresh change of clothes before you head to a restaurant or bookstore.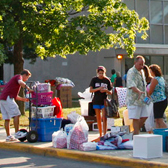 Dear freshman – transitioning from life at home to life on campus can be one of the most exciting times of your life.  It can also be a little stressful until you figure out a routine.  Even if you're not typically very social, this is the moment to get out of your comfort zone and participate in the special events available to freshman in the first few days on campus. While they may seem lame at first, they are designed to help you get to know each other, especially the people in your dorm and on your floor. You'll be glad you did when you can knock on the door of one of your new friends when you want to see a movie, grab something to eat, or just relax.
Want to start at page 1 of this event planning blog?  Click here