There are tons of baby shower ideas, but this is the best idea I've heard in a while. Have each person purchase a children's book instead of a greeting card!  Rather than wasting money on buying a card to attach to the gifts, suggest that they sign the inside front cover of the book they've purchased.  Mom will be able to recall who gifted the book every time she reads "Goodnight Moon" or "The Very Hungry Caterpillar" to her little one.  What a great way to remember a special day!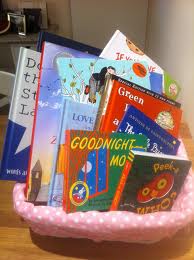 If you want to take the "Gift of Reading" theme even further, and incorporate it into the decorations, food and activities, you can find some great ideas on a blog called
Baby Food Scoops
.
If this information was useful to you, please take a moment to pin or share this link with others – thank you!
Need the basics? Begin 
here
.